Liqui Moly is by your side as we deal with whatever challenge life brings – and now it's time to be there for you at home.
We'd like to use the downtime to connect and get to know your family better.  We'd love to know how we can help you win during this time at home, and beyond.
Everyone needs to be germ-busting superheroes right now and we're kicking things off with a focus on our superpowered multipurpose hygiene and cleaning products – like our handwash paste that works with and without water. Visit Liqui Moly Superheroes for more.
Now that you have a lot more time to be a DIY champion and finally service that scooter, fix your bike, finetune your car, de-squeak your cupboard doors…we're here for you! Watch out for our DIY Lockdown series, including voucher rewards for your best DIY ideas.
And never fear – your mini rangers won't be left out.  We'll be running a #LiquiMolyPassionKids art and colouring challenge – featuring our favourite themes of cars, bikes, boats and planes  – of course! Kids of all ages can take part on @LiquiMolyZA Facebook and Instagram with a chance to impress everyone with their talent and walk off with fantastic prizes.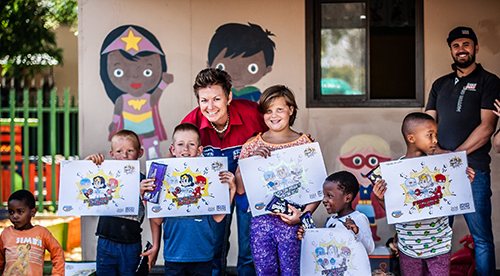 We're online and ready to answer your queries and questions during this time, so please keep in touch and connect with us on social.
On a more serious note, we're so grateful to all essential service staff who'll keep the wheels turning during this time, especially medical teams as they walk bravely towards the fire. You are our warriors on the front line, and we salute you.
For many, we're heading towards an incredibly tough time and we're pouring as much resource as we can into ensuring the children and families of the Liqui Moly Superhero Academy are taken care of.  If you would like get involved, please get in touch.
Be safe everyone – let's get through this together.
Melicia Labuschagne
Liqui Moly SA Managing Director