We've all been spending much more time at home and people are taking the opportunity to springclean, fix, declutter and refresh their spaces.  Top German brand Liqui-Moly, known for its lubricants, oils and additives, has a range of truly multi-purpose products that come to the rescue not only for your favourite set of wheels, but also your home. Did you miss the lockdown DIY challenge online and enthusiastic Facebookers far and wide showcased how these superpowered game-changers help you conquer a range of challenges. Here are some of the highlights. 
WASH YOUR HANDS – 2,3,4,5,6,7,8…
Hand Wash Paste was designed to remove tough dirt in workshops, including oil, grease, tar and inks. Avoiding the coronavirus means keeping everything super-disinfected and clean and it has now found its way to many an indoor basin. This is the product to blast the bugs – packed with power, but still not harmful for your skin. In the race for germ domination, proper soap cleaners defeat sanitizers, and Hand Wash Paste can be used with or without H2O. 
Hand Wash Paste is also brilliant with clothing stains. Rub a little paste on the oily stains on your clothes before washing to remove them.  Braai stains, little painted handprints, grease marks from working on your car – gone! Keep it everywhere.
SUPERSHINE SURFACES
Your wheels
Super K blasts stickiness, dust and unidentified gunky grime deposited by your kids from all the surfaces in your car. It's great for deep cleaning to remove old clogged-up dirt, before you apply dashboard protection. How about your cup holder that turns into a sticky little dust trap? Spray and wipe! Blitz soot, dust, oil, grease, brake dust, insects, bird droppings and more.
Your home
Perfect to use everywhere around your home – Super K will have tiles, metals, chrome, plastics, textiles, wood, glass and rubber looking spotless. Has your locked-down toddler decided to create some new wall-art? Save your surface with Super K. Those running shoes or white sneakers, where only a nailbrush can get the dirt off? Spray Super K and watch the dirt wipe away! And if you're dreaming of fairways and greens, you now have time to prep and clean those clubs for the next golf game. It's also particularly brilliant for removing burnt-on dirt and charcoal debris from your braai.   
On the virus front, an easy way for the coronavirus to spread is via your refuse bin. Clean it thoroughly with Super K on collection days.  Here's a video from Davie Obies to show you how.
DEEP CLEAN THE COUCH
Your wheels
Liqui-Moly Upholstery Foam Cleaner has special powers to lift dirt from upholstery and mats in your car without leaving a trace. The dry foam means there's no damage and no give-away damp smell – just a nonallergenic citrus aroma.
Your home
This is an awesome cleaner to easily remove stains from carpets, couches, curtain stains…use it for all sensitive materials that you wouldn't want to wet.  Even your favourite sheepskin slippers will look like new. And smell like lemons.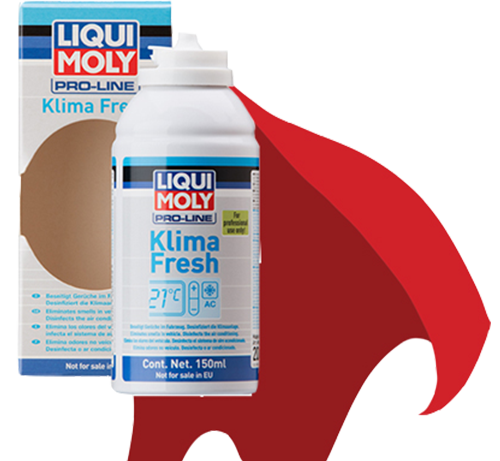 GET SOME FRESH AIR
Your wheels
Is something smelling fishy? It might be the bacteria in your car or indoor air conditioning system. Klima Fresh can get your car and home smelling fresh and clean again in a speedy 10 minutes! It banishes unpleasant odours caused by bacteria and mould in all airconditioning systems, ventilation ducts or vehicle interiors.
Your home
Is your room aircon starting to smell like stuffy planet pong? Switch it on to self-clean mode and spray Klima Fresh close to the vents….fresh air in an instant! Liqui Moly Klima Fresh can also be used to kill the bacteria in your vacuum at home. Always check to not ignite the trigger for this application.
GET RID OF THE RODENTS
Your wheels
Marder Spray prevents expensive repairs caused by rat damage in your vehicle's engine.  Nix those nasty invaders with Marder Spray and send them scuttling away with a super-pheromone formula that they hate, and we love!  No more nesting in engines and eating plastics and wiring for a midnight snack. Protect your car's wiring and piping during the current lockdown as well as the approaching winter season.
Your home
Marder Spray is safe for the environment and animals. Spray it safely in your roof and around your home with no risk for kids, birds, pets and other things you love.  You could also apply it in other areas around the house where rats or mice might want to nest, near dog food, food storage cupboards or the wood for your braai. Respray every 14 days to keep rodent invaders at bay.
GLIDE AND RIDE
Your wheels
LM40 is the ultimate silicone-free multi-purpose weapon to keep your moving parts, moving. It infiltrates and removes dirt, stubborn oil and grease residues, providing protection against rust, corrosion and protecting chrome parts in your car.
Your home
LM40 is the ultimate all-rounder for home, hobby, workshop and bicycle. It lubricates, cleans, loosens, protects and preserves. Sort out squeaky hinges, cranky gates, remove glue residue and unlock sticky locks. Before putting your fan away for the winter season, it's best to clean and lubricate to ensure optimum performance for next summer. You can also coat your wooden garden equipment with LM40 to keep moisture out and keep the wood sealed to avoid cracks and splinters.
Liqui Moly Gloss Spray Wax, Leather Care and Windshield Cleaner are just a few more favourites that have made their way from garage to home.
Liqui Moly fan Sean Dilner sums it up, "I used Liqui Moly products to clean the carpet, stove, electric frying pan and lubricated my locks, just to mention a few! I love the products and would recommend them to anyone who would like to see amazing results."
(ENDS)