Richard Beswick interviewed the woman behind the Liqui Moly brand in South Africa, Country Director Melicia Labuschagne, on Facebook Live.
Melicia provides insights on how not to just survive, but to thrive during the pandemic.
More about Melicia
An inspirational woman growing a powerful brand in the male-dominated automotive sector 
Melicia Labuschagne is not your usual business director. From leading team line-dancing celebrations, to writing a book titled 'Life lessons through mountain-biking', to establishing the Liqui Moly Superhero Academy for children in need, her earnest energy makes you want to follow her lead.  An authentic and feisty female entrepreneur, she has successfully launched a world-renowned brand and has spent the last 12 years building it in South Africa.
Growing up in small mining and farming towns, this energetic young tomboy had a great passion for Formula One and idolized Michael Schumacher. When a car accident put paid to the banking job that was paying the bills in her twenties, Melicia used the insurance payout to take her first entrepreneurial leap and started trading in the automotive sector. This was her first career link to her personal passion for vehicles and a welcome step out of structured employment.
Debilitating health challenges then led her to seek out specialist nutrition from Herbalife from her hospital bed. Healthy again, she quickly rose up the ranks of the direct marketing organization in South Africa – building her own team, travelling internationally and inspiring others through her absolute passion for a product that had changed her life.  It was through her Herbalife exposure that Melicia grew to become just the person to bring German lubricant brand Liqui Moly to South Africa. True to her principles, Melicia researched the brand, even visiting Germany, to ensure she would be able to believe in the brand and back the product. "I've always believed in selling the advantages and value of a product, not the price, to build a loyal customer base who know and trust what they're getting. That way, you never have to protect your business," says Melicia.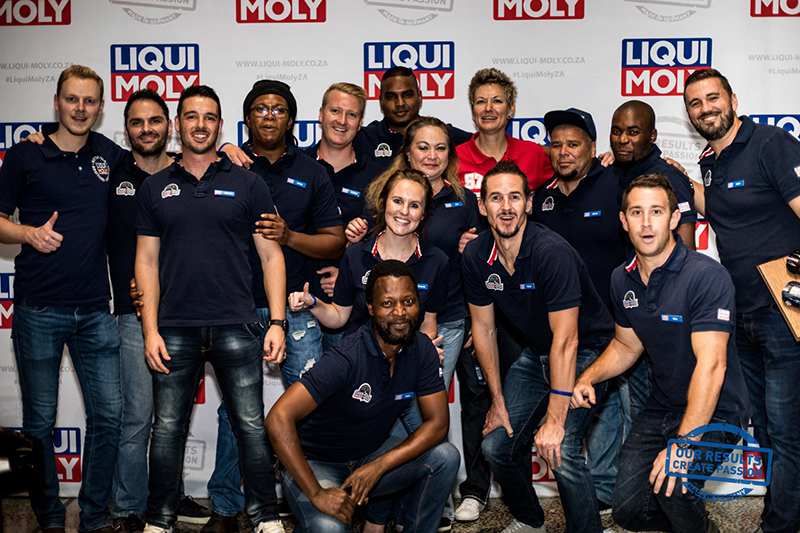 Melicia certainly had to rely on this philosophy as she launched the Liqui Moly premium engine oils and additives in South Africa in 2008, in the midst of a global recession. "I was determined to build the brand based on trust with some consistent fundamentals in place – one price increase a year, superb service delivery and always adding value to the customer," says Melicia.
In the early days, she worked out of a one-room office and played every role in the company – receptionist, packer, order taker, salesperson. "It was tough at first as I felt so many doors slamming shut. We had to build credibility, sell our products based on the value that supports a premium price point, build relationships and just keep going back! It's a delayed growth strategy, but it's the strongest. The corporate customers that took the longest to buy in are now our most loyal supporters."
Melicia radiates the personal development philosophies she lives by and is determined to retain a positive outlook in the midst of another economic downturn. "Africa is full of opportunity and we've barely scraped the surface of what's possible. It's all about your mindset. I believe that how you do anything is how you do everything, so make sure you do everything well."
Hear more from Melicia on 27th of May at 13h00:  https://www.facebook.com/liquimolyza/live