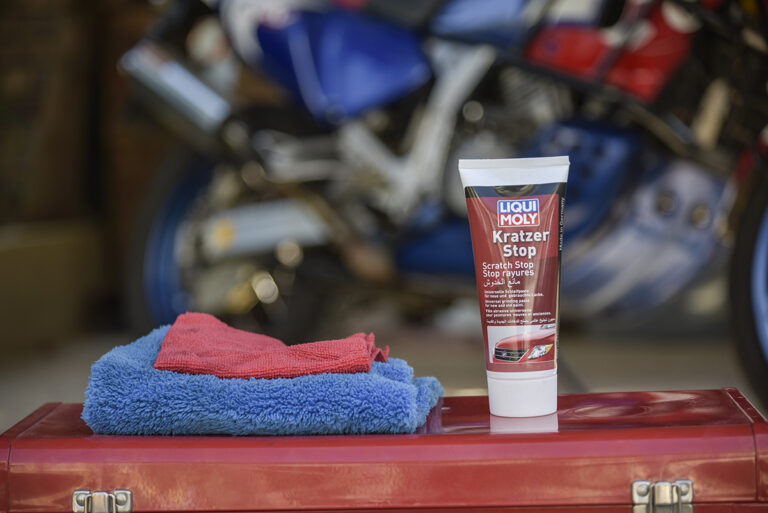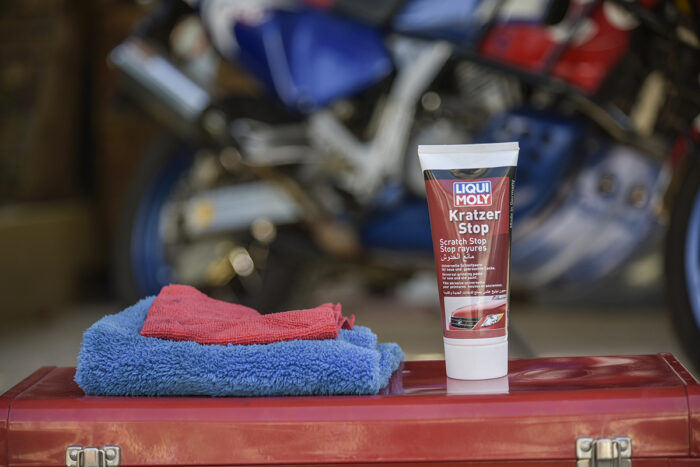 Do not fear, Liqui Moly Kratzer Stop is here! For you guys (and guyesses) out there whose German linguistic skills are a little rusty, 'Kratzer Stop' is 'Scratch Stop' in the old colloquial. Now anyone who has been around bikes for any length of time will know how gutted you feel when your pride and joy picks up a scratch. If you are really unlucky the scratch is deep, right down through the surface, however many times it is superficial, but mars the good looks of your ride. Especially for you! You are so aware of the offensive scratch that your eye is drawn to it and it plain bugs the hell out of you. There is hope for the second scenario.
I am one of those guys that is bugged stupid by superficial scratches! I want it 'fixed' as soon as possible. I have had two such instances on my new Suzuki V-Strom DL 650 that freaked me out. Somewhere during the course of my running in road trip, I had a pebble thrown up which must have landed between my thigh and the tank. With the movement of my thigh against the tank, it proceeded to scratch the hell out of the right side of my petrol tank. Washing the bike post-trip, I noticed the 'superficial' but noticeable damage. I know some of you can just carry on regardless, considering such damage as 'patina' and typical wear and tear. I am just not that guy! I immediately had to 'fix' it! Enter Liqui Moly Scratch Stop.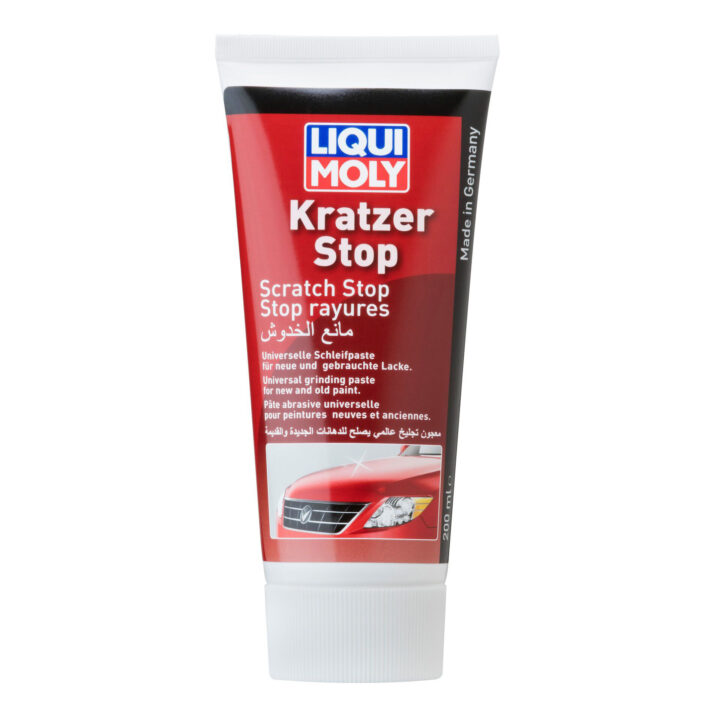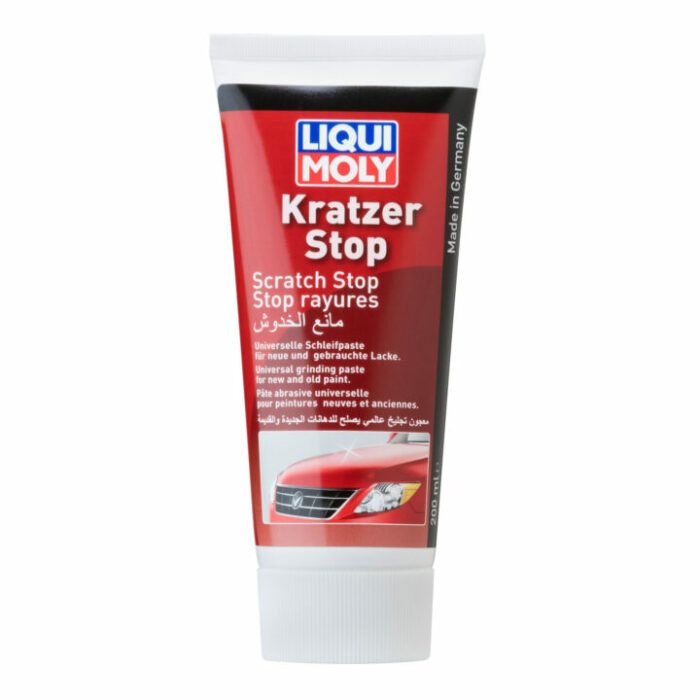 Overview
Silicone oil-free, universal grinding paste. The product is suitable for the removal of scratches, paint mist, traces of grinding and orange-peel surface on coloured and metallic paints. The product is suitable for manual and mechanical treatment.

Specially developed product for the removal of scratches. Suitable for coloured and metallic paints. Ideally suited for treating matt/dull plastic windows or headlamp lenses made of polycarbonate.
As I had already fixed the 'superficial' damages on my Suzuki V-Strom DL 650 (without properly documenting it). To demonstrate to you in this article we took Suzuki's 'demo' Hyabusa which had seen better days. Its tank was full of 'superficial' scratches from many rider jackets rubbing on it as it hadn't been fitted with a tank protector. No sweat, Scratch Stop will polish it up like new.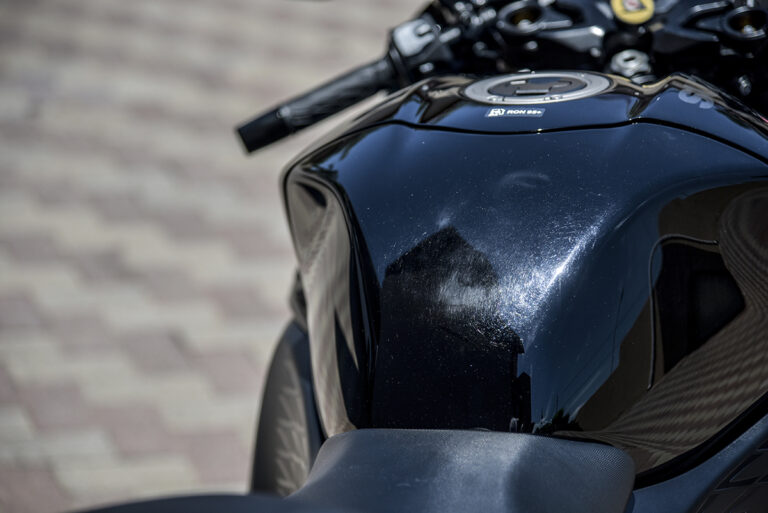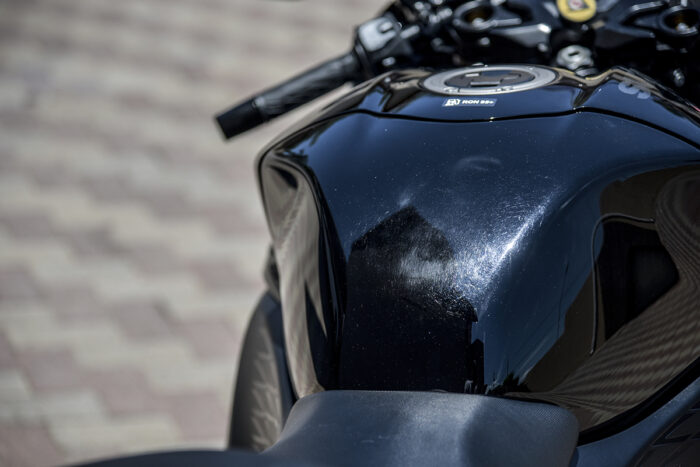 The Scratch remover comes in a 200 ml plastic tube. The procedure is to shake the tube well, prior to opening it, then remove the screw top and squeeze some of the contents onto a clean, soft cloth. A word of warning. The contents, which is a funky purple colour, is more of a cream consistency than a paste and comes out really easily. A big squeeze may just have you wearing half the tube!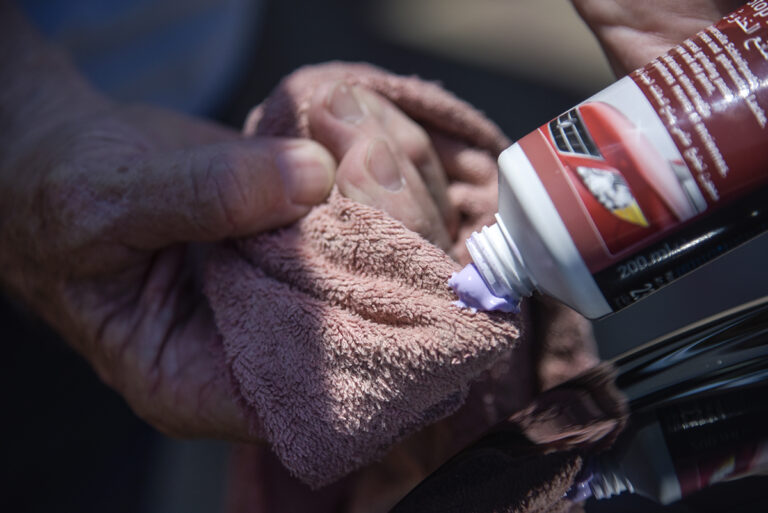 The consistency of the Scratch Remover is a big plus. It works well as a polish on all bike surfaces that you would typically use it on. Some products are great on metal but too abrasive on paint and more fragile surfaces. Once applied, you need to rub the offending scratches with a regular circular motion. Be patient and keep rubbing, then rub it up with a clean soft cloth.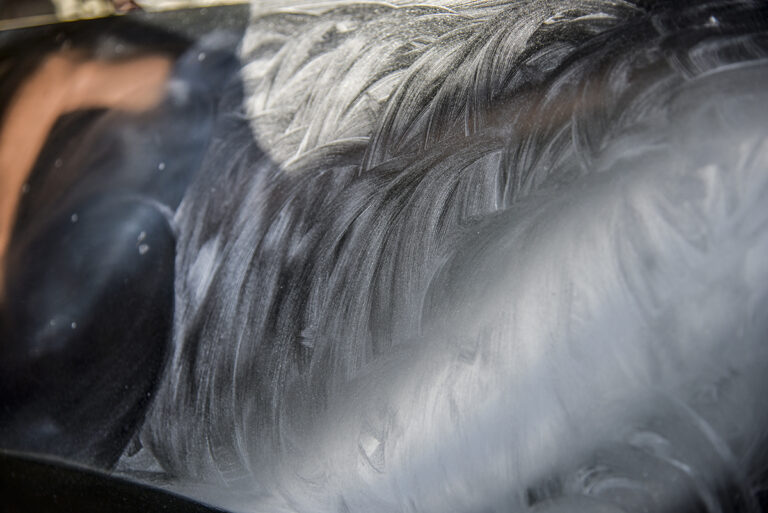 Voila! No more scratches and your bike is restored to its unmarred former glory. If the scratches are a bit deep it may require a second rub. Work systematically and your patience will be rewarded.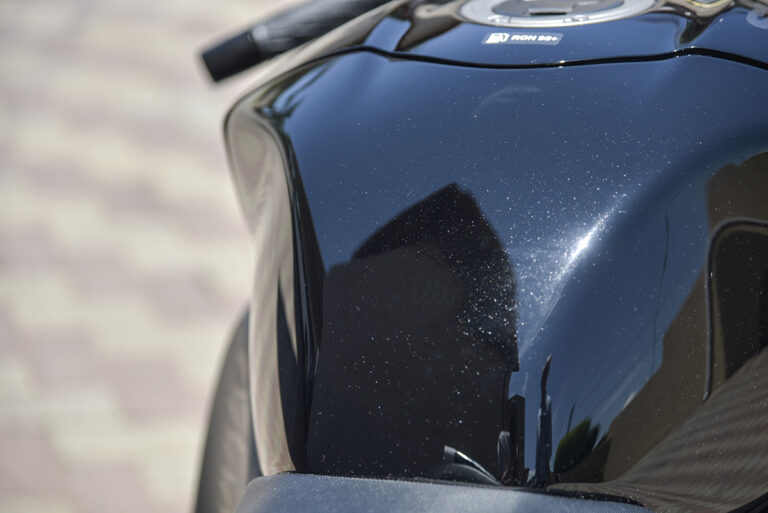 Enter case number two. Stopping to refuel the other day I was distracted for a second. The over-enthusiastic Petrol Attendant was scrubbing the windscreen like a dervish with one of those car windscreen cleaners. They work pretty well on a glass windscreen, but they scratch the hell out of a motorcycle screen. My 'moer meter' redlined instantly and I had to do some serious self-talk to remind myself that the poor fellow was just trying to serve me. Flip, the screen looked awful!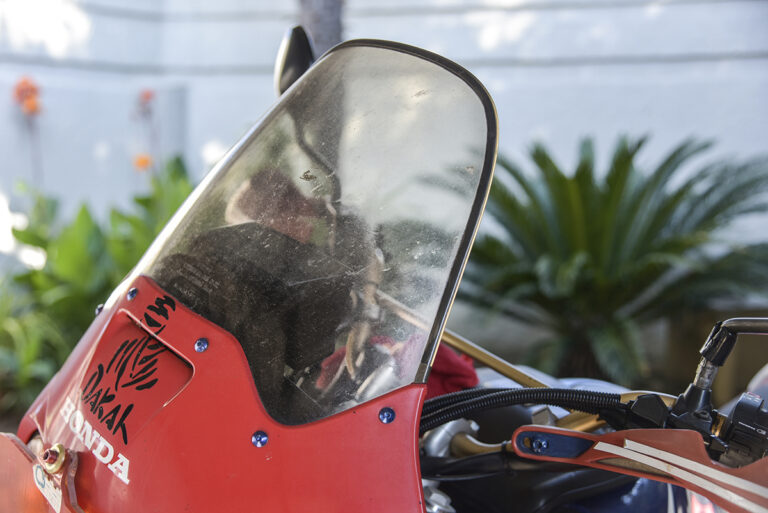 Scratch Stop to the rescue. I have tried to polish screens before with limited success. Typically the scratch remover is too abrasive and dulls the screen, or doesn't remove the swirls. I got home and wiped the screen clean with a chamois and surveyed the damage. Literally saw myriads of superficial scratches all over the screen. The light reflects off these scratches to make them look even worse. I applied the Liqui Moly Scratch Stop and systematically worked over the screen surface. Fifteen minutes later I polished it up and true as nuts, restored! A couple of little spots required a little more attention but now my screen is like new. Shiny, bright and scratch-free.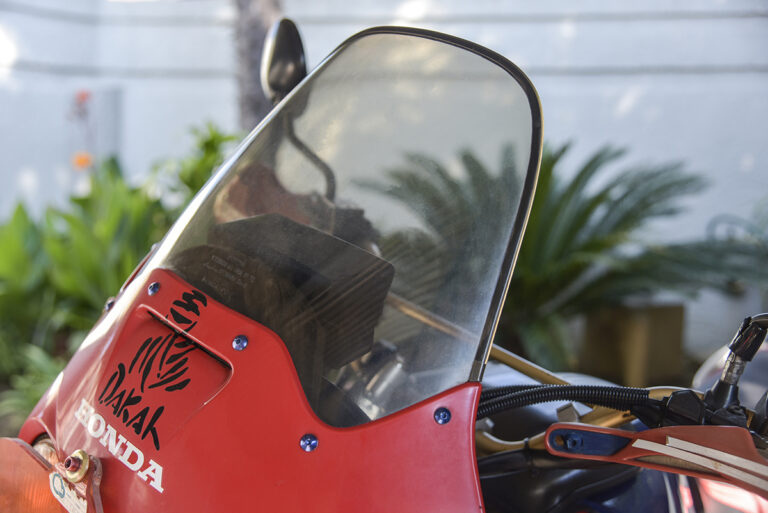 I got so carried away that I grabbed my helmet and gave the visor the once over. I am very particular about how I clean my visor but daily use and regular cleaning still takes its toll. Massive difference!
Suddenly my wife's vehicle's headlights looked a bit dull, so I whipped out Liqui Moly's Scratch Stop and got to work. See below the 'before' and 'after' shots of how they polished up like new.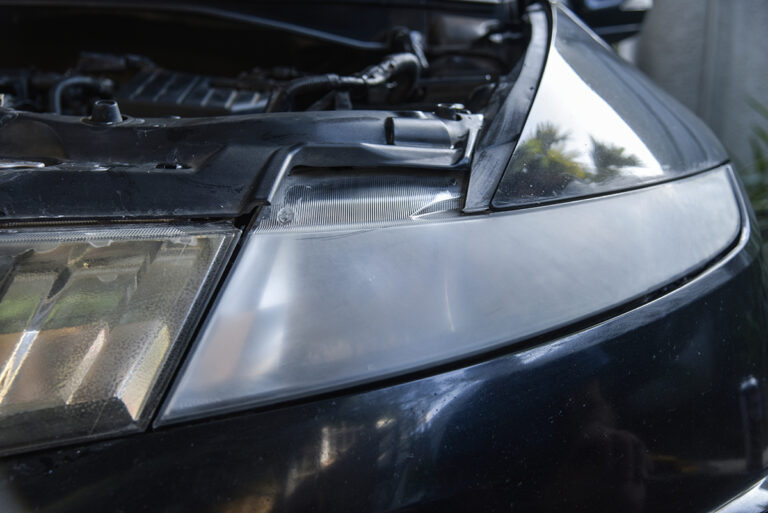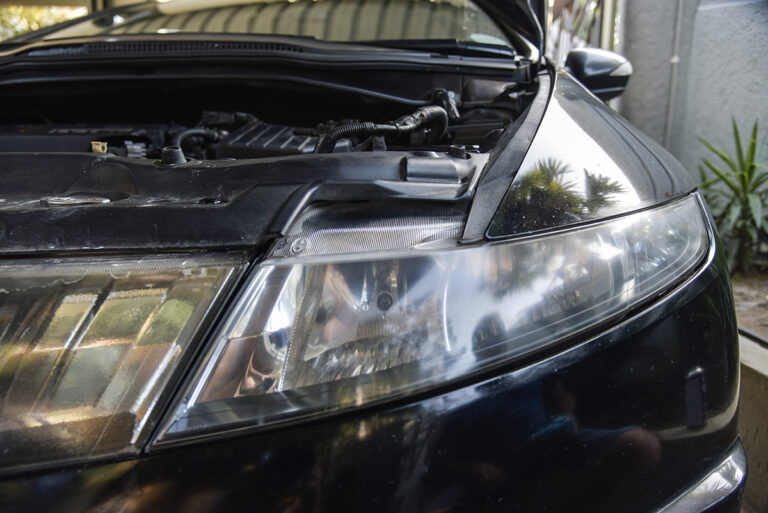 Seriously guys, this is an absolutely excellent product that you must have in your garage. Those superficial scratches on the body from branch ends….damn, this Saturday is going to be fun!
You may already have a tube of that old favourite of detailers everywhere, Solvol Autosol. This is excellent for exhausts and the like, however, it is too abrasive for screens and paintwork. The two products are brilliant in tandem. If the scratches are severe you can use the Autosol and then finish the surface to a brilliant finish with Scratch Stop. I attacked my exhaust headers with Solvol and then found the Liqui Moly took them to a new level! I'm totally sold on this stuff! If like me, you maintain your bike in new condition, there is no doubt that Liqui Moly Scratch Stop makes it a whole lot easier, as well as addressing all your household stubborn polishing needs.
To view Liqui Moly's full motorcycle range click here.