Whether on the car, in the workshop or in the household, multi-purpose oils are very popular as a universal aid. When the door lock catches, the screws are stuck on the defective tailpipe, the front door creaks or the lawnmower refuses to start – however diverse the tasks may be, universal oils seem to be the solution in all these cases. But can the multi-purpose oils really do everything they promise?
As chemical products with complex properties, the effectiveness of the 12 sprays was examined by the test experts of Germany's largest automotive journal according to scientific criteria in a specially designed laboratory. In addition, the instructions/comprehensibility/safety as well as the ease of application and material compatibility were checked. 
The demands on multi-purpose oils are enormous. They are intended to protect against wear, or even prevent it, and at the same time provide good lubrication. In addition, they should protect against corrosion and offer high penetrability, so as to be able to develop their lubricating effect even on deep screw threads and displace water there. 
With a total of 127 out of a possible 160 points, the LM 40 Multi-Purpose Spray achieved the best possible result for almost every area of action that was tested individually.
Of course, multi-purpose oils should also work on as many surfaces as possible and not damage them. With this in mind, the behaviour of the multi-sprays was tested on plastic and paint.
With 18 out of 20 possible points, the LM 40 Multi-Purpose Spray achieves a very good result.
The places where a multi-purpose oil must go are often difficult to reach. Whether small slits or crevices that can only be reached overhead or from below, application of the oil should always be effective. For this reason, the handling of the cans was also tested.
LM 40 Multi-Purpose Spray meets 20 out of a possible 20 points and thus achieves the best possible result.
Instructions, comprehensibility and safety
Comprehensibility and safety are further relevant evaluation criteria, especially when there is a wide range of possible applications or chemical products. 
Here too, the LM multi-functional spray achieves the best possible rating with 5 out of 5 possible points.
All in all, LM 40 is a great all-rounder as a multi-functional spray. It has good penetrability, displaces water perfectly, is gentle on materials, and protects well against rust. Lubricity is in the good middle range, while wear protection is very good. The can is also equipped with a practical 360-degree spray head.
With 170 out of 205 possible points, LM 40 received a grade of 2.0 (good) and thus not only came in first, but was also the price/performance champion.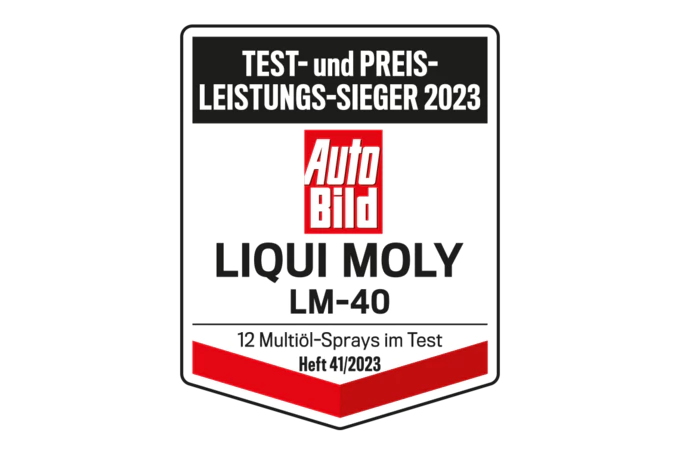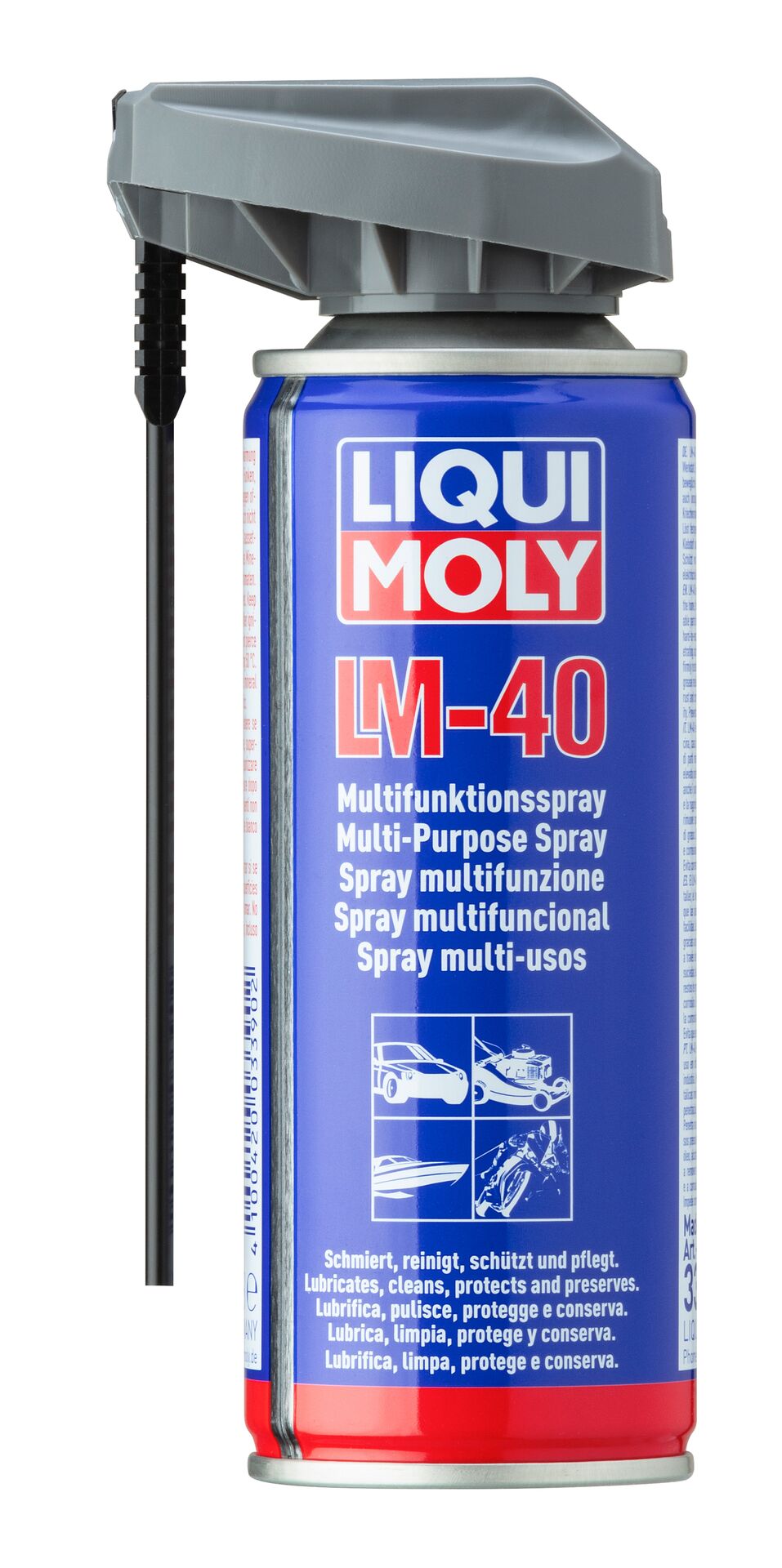 LM 40 Multi-Purpose Spray
SKU:
3390 (200 ml), 3391 (400 ml)
LM 40 Multi-Purpose Spray
Lubricates, cleans, loosens, protects and preserves. Keeps moving parts running smoothly. Loosens stubbornly rusted and burnt-on screws quickly. Infiltrates and removes dirt as well as stubborn oil and grease residues. Provides protection against rust and corrosion, and protects chrome parts. Reaches even the most hidden lubrication points, thanks to its excellent penetration properties.
Improves electrical conductivity
Minimizes friction and wear
Does not attack plastics, paints, metals or wood
Keeps moving parts from seizing up
Good corrosion protection