There has been a great change in human behaviour in the last year with lockdown and with that being said, the behaviour of destructive rodents such as rats have too.
While you have not been moving or driving your car on a regular basis, this could have become a temporary home to rats.
Rats tend to love warm and dark places, according to Motorpress. One of their top favourite spots to create a nest is inside a garage.
Due to the heavy lockdown, the population of rats globally has increased rapidly, with a recent estimate of 150-million in the United Kingdom, which is said to be 2.5 per person.
The same calculation was applied to South Africa, our population being 58-million humans, could mean homes to 145-million rats.
Thanks to Liqui Moly Rat Ban, it is detested by rats but not harmful to people or pets. Marder is a German word for marten, meaning a family of mammals related to rats.
All you need to do is spray some of the Liqui Moly produce on all plastic and rubber surfaces of your vehicle to keep the rats away.
"We've seen a significant spike in callouts since lockdown and it is definitely part of a global trend. Rats and rodents, in general, can be hugely destructive and habitual gnawing is part of their natural behaviour, as it is how they keep their incisors from growing excessively long," says Nathalie LeBlond from Rentokil.
A report from India's Hindustan Times stated that from November last year, there were seven situations where motorists who left their vehicles parked for weeks or months discovered many electrical faults such as non-starting, overheating or short circuits.
These damages were caused by rats.
As we are heading into the winter season, Melicia Lebuschagne from Liqui Moly South Africa is expecting a rise in cases involving rats causing damage to cars.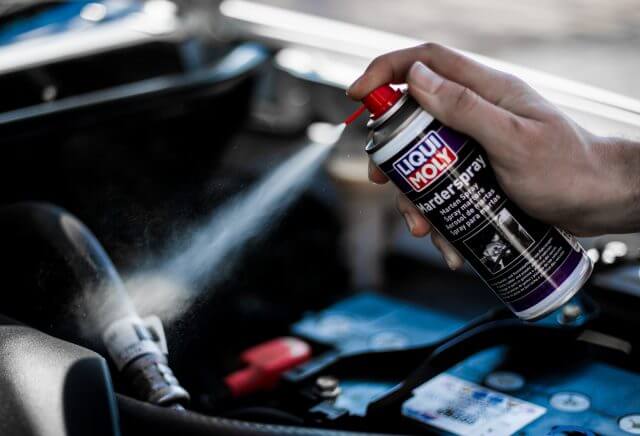 "We do invariably see a rise in demand for Rat Ban as the weather gets colder and in 2020 the trend was more pronounced, especially at the tail-end of winter, when we started to come out of lockdown," she explains. "Of course, our Rat Ban isn't just great for keeping rats away from expensive car wiring and because it is non-toxic and environmentally friendly it can be used just about anywhere with confidence."
The spray has no colour and uses an ingredient with a very distinctive smell that may be unappealing to rodents and some other mammals, but have no effect on us as humans.
The Rat Ban is available at Goldwagen and Builders Warehouse and comes in a 200ml aerosol spray with a retail price of R110.00.
Picture/s: Motorpress