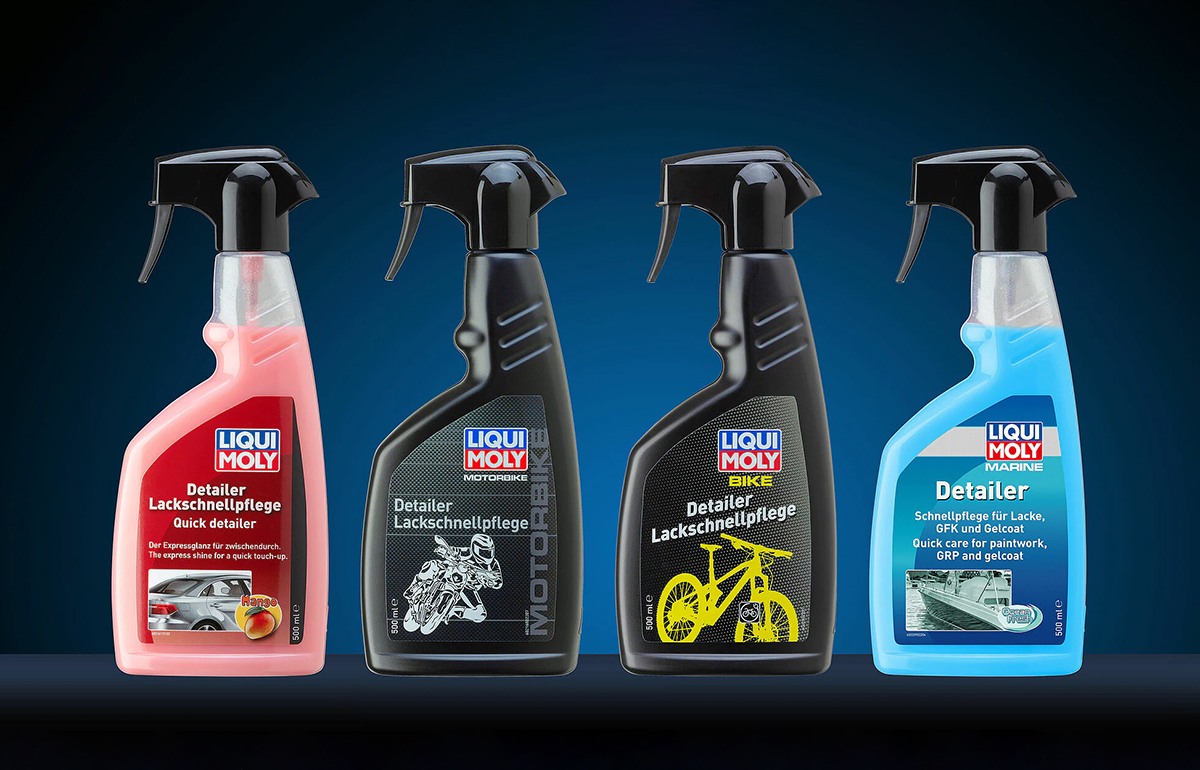 In a previous post, I gave a passing thumbs up to Liqui Moly's Quick Detailer when I used it to polish the dust off my car. It worked so well in this application that I thought to give it a bash on my bikes as well. Well, to be frank, the results have been superb!
The Quick Detailer comes in a 500 ml spray bottle, is pink and smells like mangoes. Not only does your bike look sweet after rubbing it up, but it smells good too! Let me tell you how I discovered what an excellent product it is.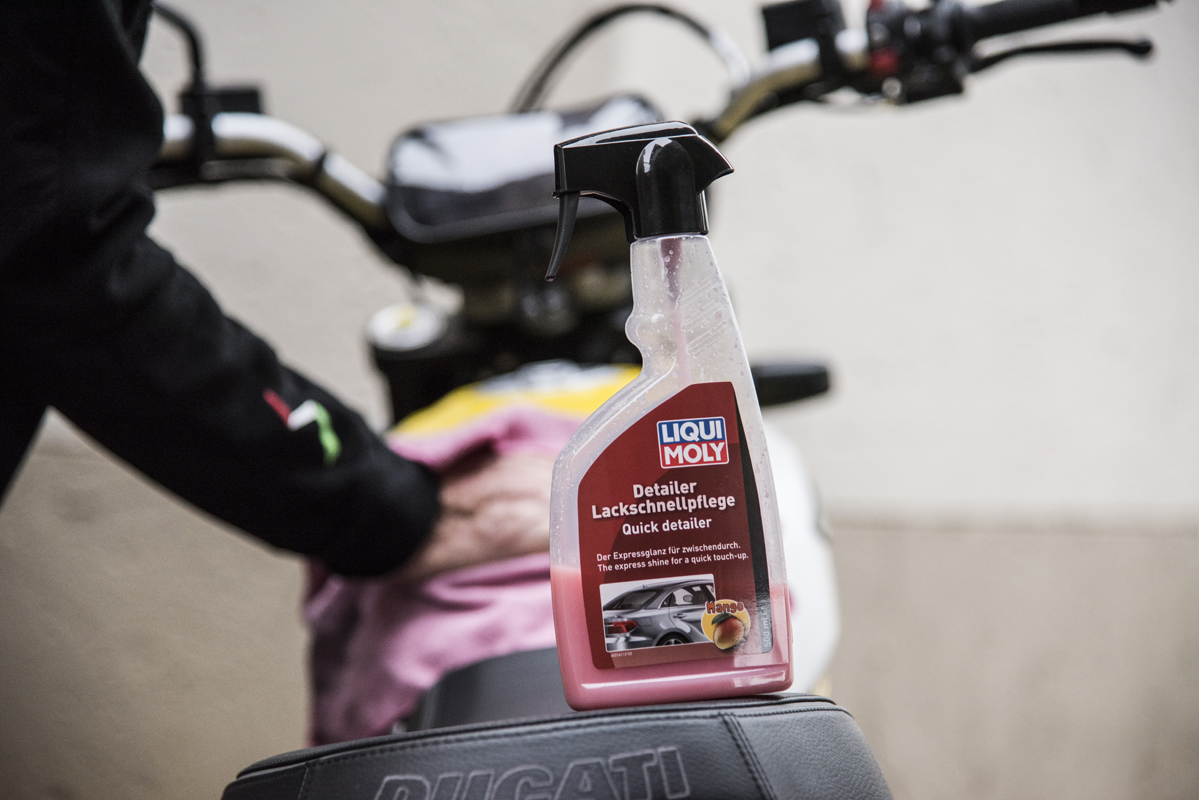 I recently had a BMW R1800 Transcontinental on review. The bike is painted black with a subtle silver metallic sheen. It has the classic BMW pinstripes in white, highlighting the classic retro lines of the bike. As always, in typical BMW fashion, the bike was delivered spotlessly clean.
The Transcontinental is an imposing large motorcycle and unfortunately too large to fit in my garage with my other bikes, so it was parked under my carport, out of the weather. We have had an odd amount of wind lately, so the bike collected a fine coating of dust. To add insult to injury, we had a spattering of rain which blew some drops onto the bike. Wanting to take photos for our review, I found the bike looking less than pristine. It wasn't dirty as such, but rather dusty and spotted with dried water marks.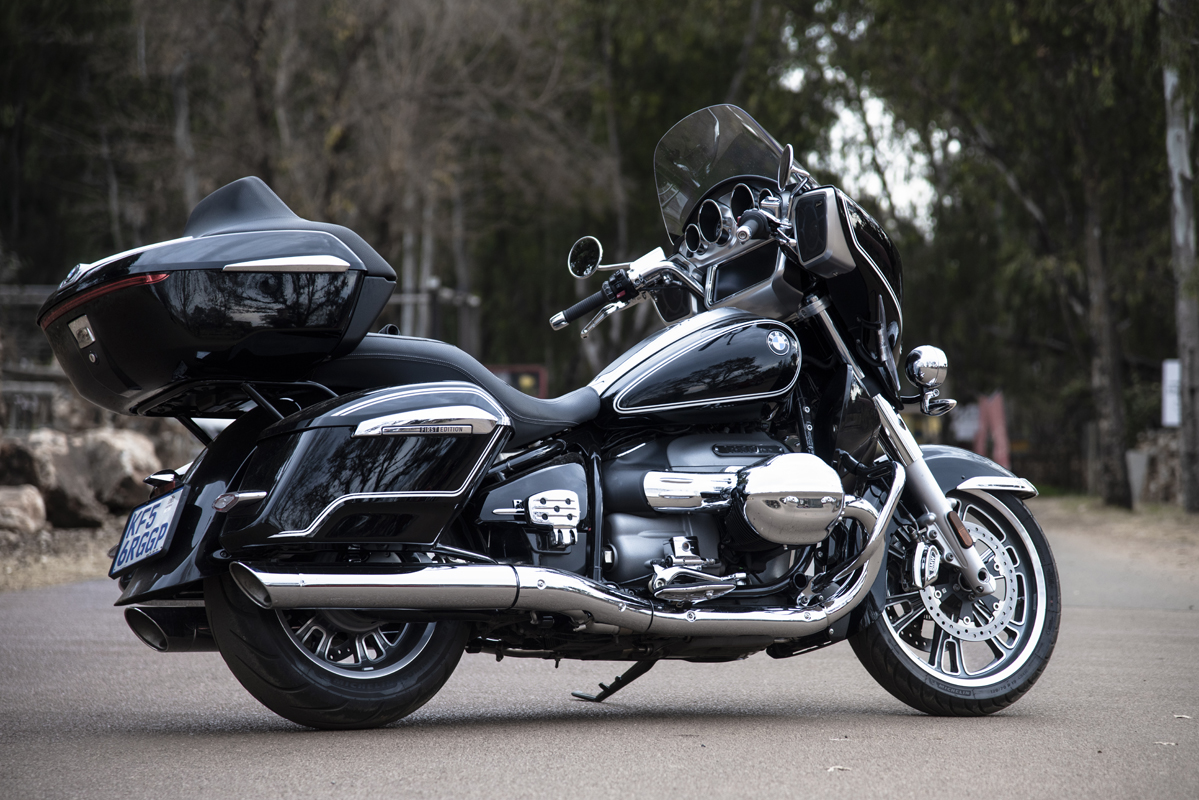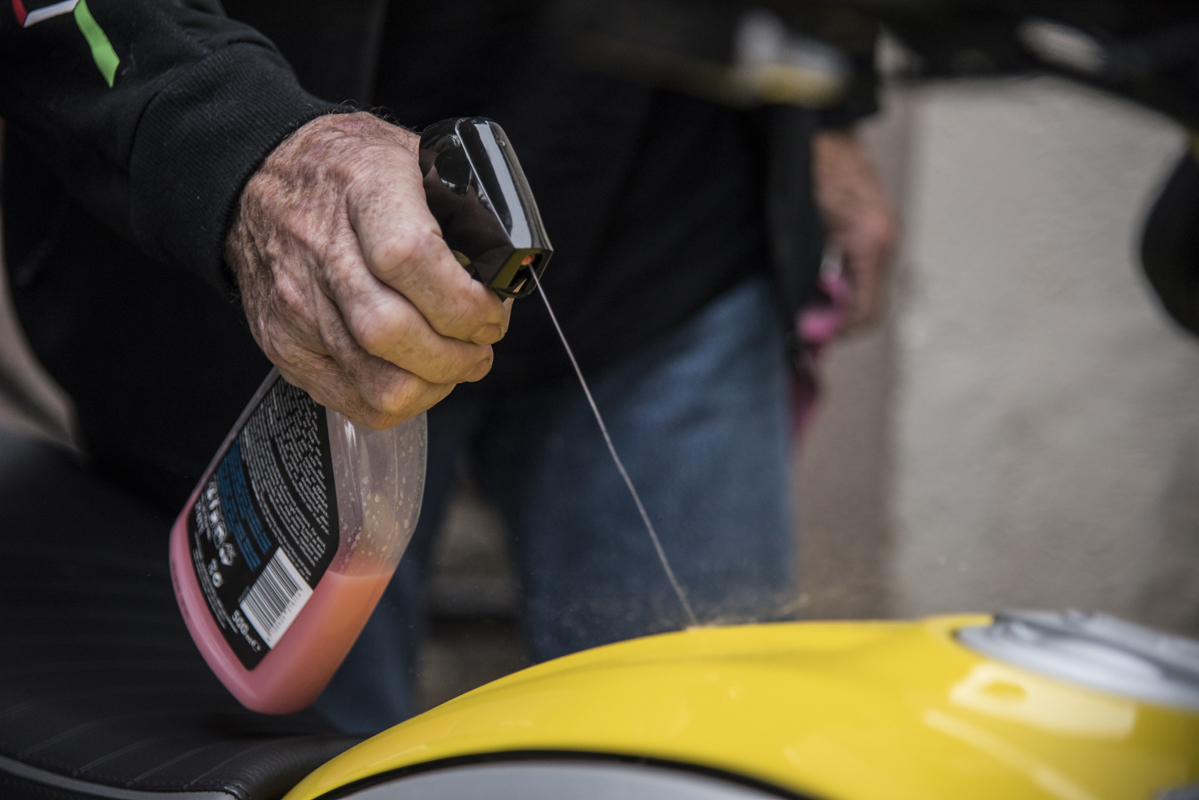 What impressed me was that it didn't leave a typical hazy polish bloom on the bike, but rather brought out an immediate shine. I grabbed a second microfibre cloth, as the original was now damp with Detailer and rubbed the whole bike up without applying any force but rather just polishing up. The results were spectacular.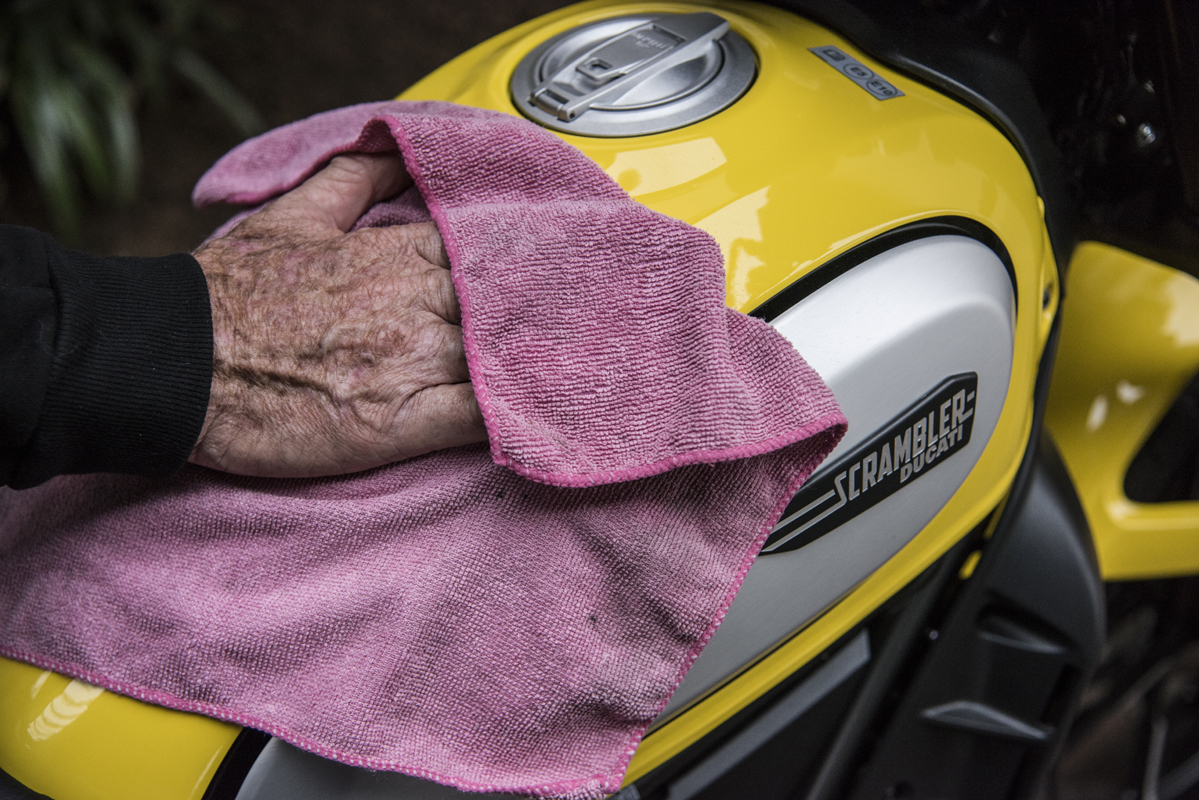 The paintwork had a deep lustre and the chrome work gleamed as never before. Even the fairing screen had got the treatment and looked all the better for it. Standing back and admiring my handy work, I was blown away by the results. The bike looked better than ever, with every inch shining in all its glory. The kicker for me was how easy it was. I have polished bikes hundreds of times over the years and worked up a proper sweat doing it. Liqui Moly Quick Detailer is a cinch to use, effortlessly putting the shine on your ride. There are additional benefits too.
Water is not good for your bike. It gets into all the nooks and crannies and corrodes places we can't dry properly. With Quick Detailer, we not only need to wash the bike less, but it also repels dirt, so your bike stays cleaner for longer. It's also water-repellent. It leaves a protective coating on the polished surfaces, protecting them from atmospheric contaminants. Leave it parked under a blooming jacaranda tree and you will see what I mean! Whilst they mention painted surfaces and didn't particularly mention chrome or glass/screens, I can report that these surfaces polished up a treat too.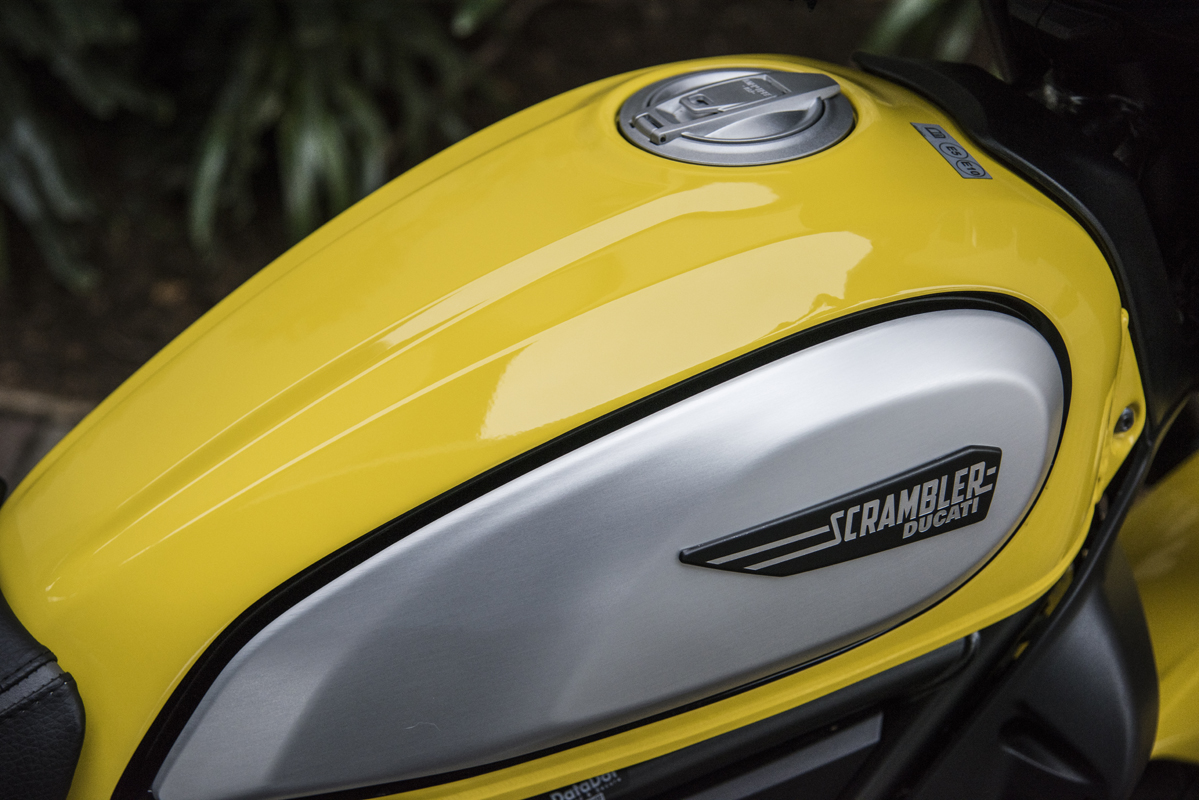 At R218.00, the Liqui Moly Quick Detailer is not what I consider cheap, but then again, really good effective products seldom are. A little goes a long way, so to my mind, given how well it works, it is something of a bargain.
Add to that the protection it offers to my two-wheeled investments and it becomes a downright steal! Once again this is a Liqui Moly product that delivers and then some. I wholeheartedly recommend it. Order some online. Your car and bikes (and bicycle) will thank you for it!