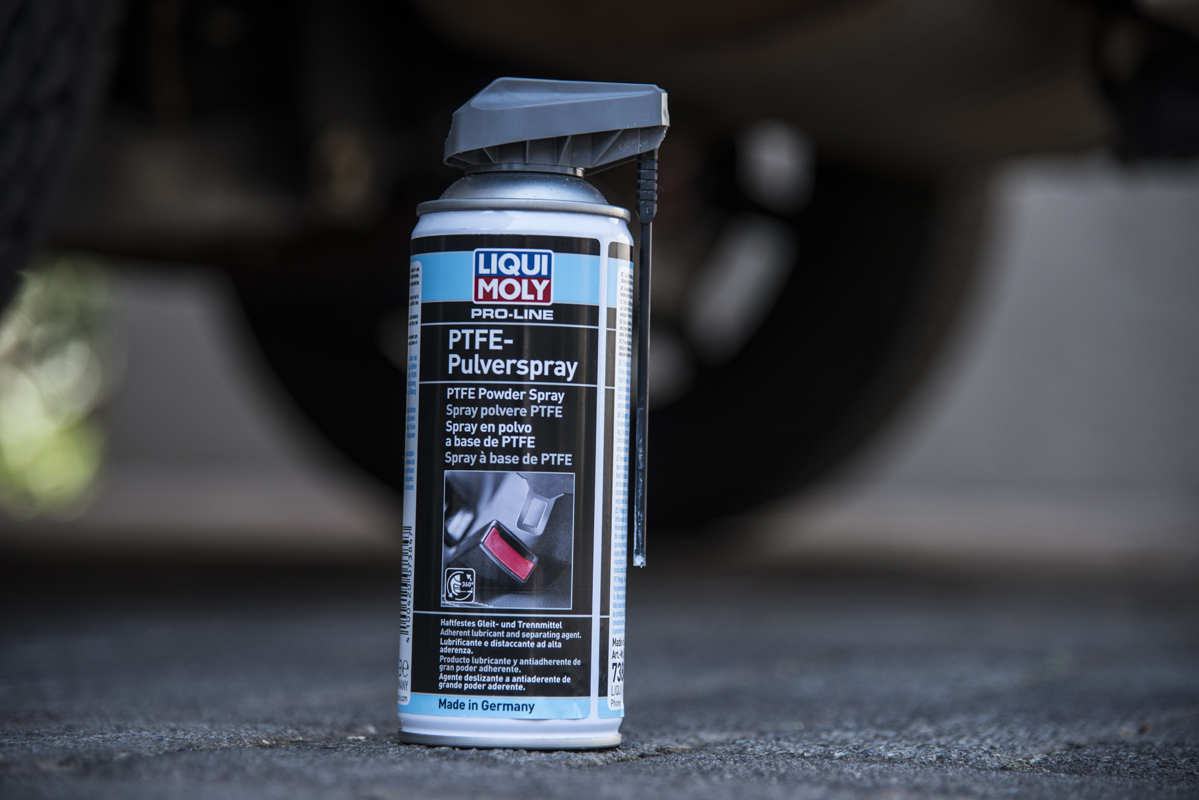 Photo credit: Bjorn Moreira / ZA Bikers
One advantage of living in the times that we do is being able to get bespoke products that address very specific needs. Liqui Moly's Pro-Line PTFE Powder Spray is just such a product. I own a Suzuki Grand Vitara 2.4 4×4. The car has independent suspension with coil springs at the rear. Now here is the thing. It provides a very comfortable ride both on-road and off, however, if I load the car for an extended road trip, or use my X-Ramp bike carry system, it tends to be too soft in the rear and sags the back of the car like a smacked puppy. This compromises ride quality and safety. I had a similar issue with my Jimny, so I knew how to fix it, but this is where I encountered another irritating problem. Let me explain…
Firestone manufactures what they call Coil-Rite Air Helper Spring Kits. It comprises two bespoke cylindrical airbags made from a very tough rubber that fit inside the rear coil springs. They have valves akin to a car tyre which allows you to pump them up to restore your vehicle's ride height when loaded. They work brilliantly. Air is perfectly progressive, so as the bags compress, they get stiffer, resisting sag.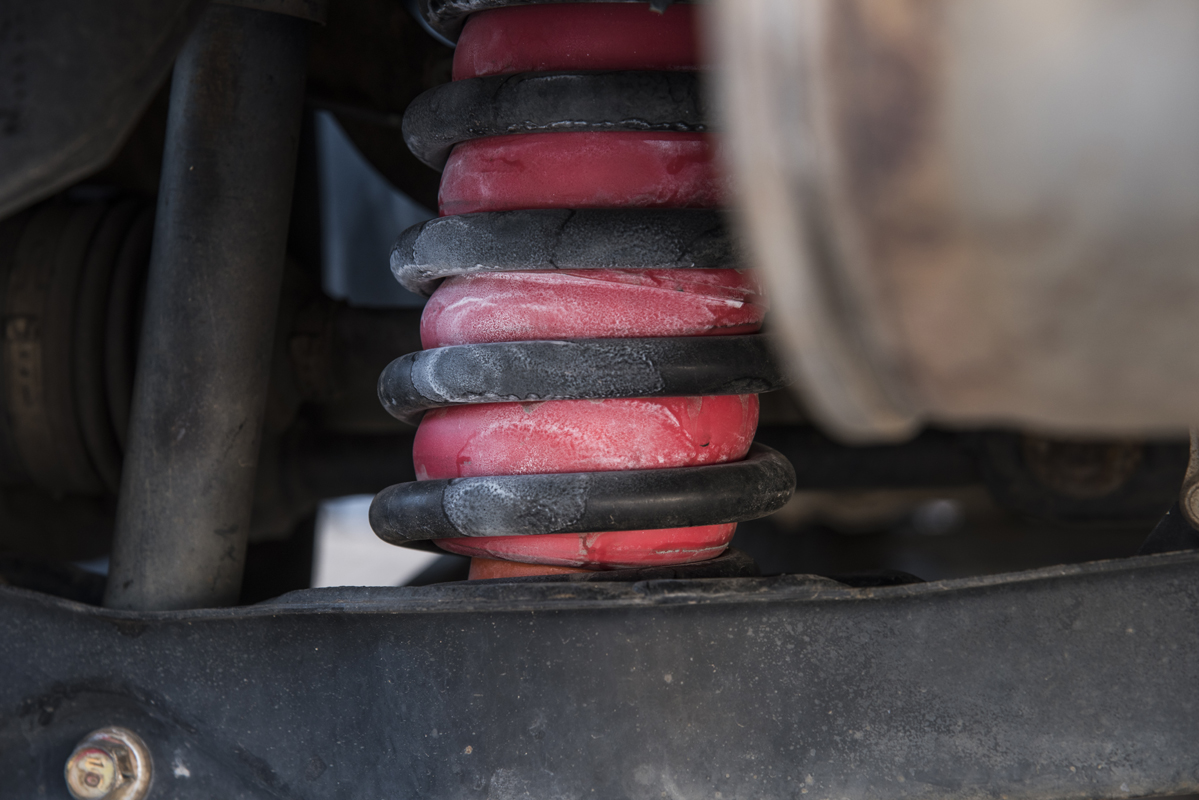 So, what is the problem you may ask? The squeak, that's what!! To prevent the bags from pinching it is recommended that you always run some pressure in the bags which is cool as the ride quality and control is superb. The negative is that the rubber bags rub against the inside of the encasing spring. As the springs compress and extend it gets a real squeak going which between here and Botswana would have me off my rocker. Typical lubes work for a while but are magnets for dust. In no time the dust removes the lube, and you are back to square one.
Luckily, we are connected with people in the general lube business, so I asked Liqui Moly's Boss lady Melicia what I could use to keep my sanity and solve my squeak issue. PTFE she responded. Tell me more…Liqui Moly Pro-Line PTFE Powder Spray is made for exactly this kind of application. With elements based on Teflon or polytetrafluoroethylene (try saying that after a few), it is a dry lube that does not attract dust or dirt and provides long-lasting squeak, creak, and stiffness protection whilst minimising wear. It operates through a very wide temperature spectrum, so it is as effective in Antarctica as in the Sahara. Well, that's the theory anyway, but how well does it work in practice?
We went off to Botswana for a few days of R&R with some mates. The trusty Suzy was the obvious car of choice, but we would be traversing the pans and dirt roads which would put any lube to the test. I sprayed the coils and bags with PTFE Powder Spray before we left, a task made easy by the clever nozzle system which easily allows you to access areas needing attention. Peace!! Gone was the dreaded squeak. I was now intrigued to see how well the application would last given the rigorous conditions that it would be exposed to. I packed the powder spray in the boot just in case I would need to re-apply the spray during the trip.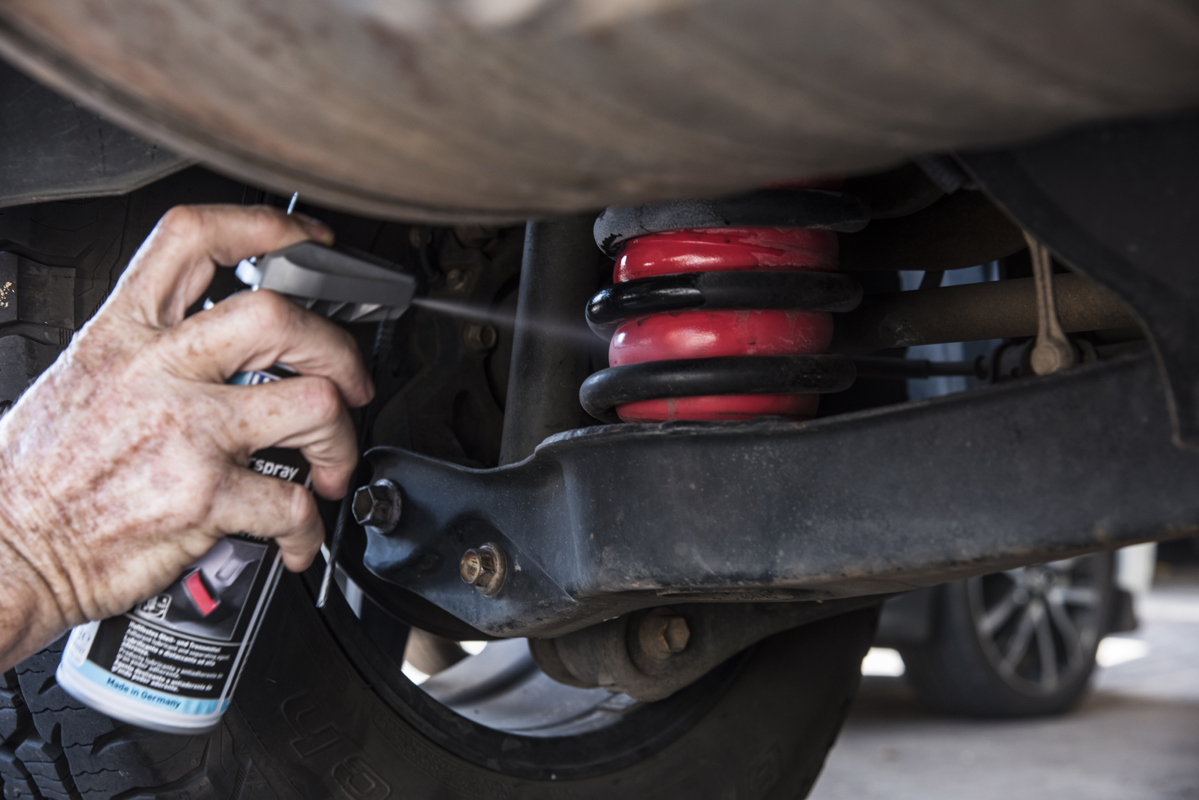 I need not have bothered. We drove to and from Botswana, dirt to our first-night stopover at Woodlands Campsite, traversed the pans twice and did our customary visit to Elephant Sands without a single squeak. What a pleasure! As with every single product by Liqui Moly that I have tried, it more than delivered on my expectations. You can't ask for more than that. Available online from Liqui Moly the PTFE Spray will set you back around R192,88 for a 400ml can. Sanity never came this cheap!!
Having learnt how effective the PTFE Powder Spray is, I used it on various areas on my bikes. I applied a coating on all the surfaces where rubbing typically takes place. For example, where the seat rubs against the tank, as well as the seat rubbers on the frame. Although these are places that you don't see, I like the peace of mind of knowing that those areas are protected. Happy bike happy life. Another top-class product from Liqui Moly.