Pro cyclists Sarah Hill and Theresa Ralph of the Galileo Risk Infiniti team are set to ride and glide with Liqui Moly as the global lubricants, oils and additives brand announces its support of these stars of the local mountain bike scene.
With the 2020 Absa Cape Epic next in their sights, the duo is making good use of Liqui Moly bike products from their new technical and product sponsor. Tyres are also part of the package.
Liqui Moly director Melicia Labuschagne says "It's great to see gutsy female athletes who are fantastic ambassadors for a sport we're so passionate about. They inspire us, we believe in them and we're excited to welcome them to the Liqui Moly family. I can't wait to see what they're going to achieve next and I know our bike range will really add value."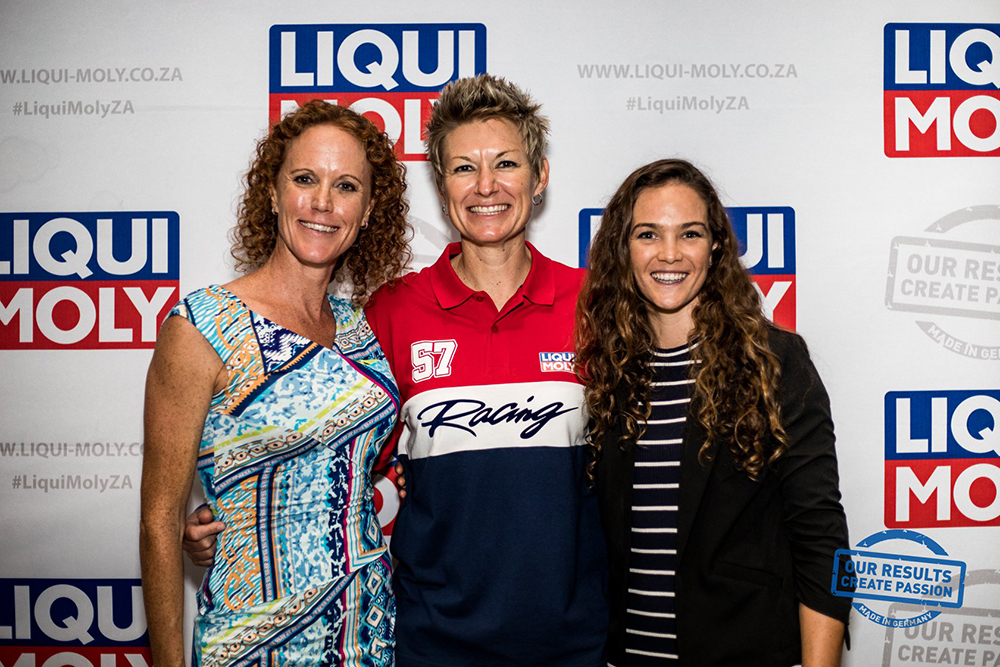 Liqui Moly director Melicia Labuschagne flanked by Theresa Ralph and Sarah Hill
Mother, coach, orthopaedic sports therapist, spinning instructor, pro mountain biker and IT specialist Theresa Ralph has quite a few balls in the air, but her competitive streak drives her to juggle it all with style and keep getting stronger. "I've got a competitive nature and it's rewarded me in my cycling. I suppose the lesson is to follow your passion and it will take you to places where you're successful."
At 26, funny, feisty Sarah Hill has shot up the ranks as she shreds the trails on the local race circuit and together, she and Theresa are proving to be a powerful combo. In 2019, they were the first women's team across the line in the Trans Baviaans, Joberg2c, Cape Pioneer Trek and of course, the Cape Epic Africa category. Even when they're racing solo, the two always gun for a dual podium.
"The dynamic between T and I is very interesting – I'm technically sound so downhills are my thing, and T is the engine that goes and goes," says Sarah. "Whether I'm crying or exploding ahead of her, we have to always keep a balance and that what took us to the leader's jersey of the Cape Epic Africa category. We're looking forward to defending our jersey and we're coming back this year stronger than ever. I've got more of an engine, thanks to Liqui Moly, and T is going to carry us through."
The team's big 2020 goal after the Cape Epic is Sani2C, and hopefully the Swiss Epic. They'll also be doing the SA Marathon Champs and which may qualify them for the World Marathon Champs in Turkey. The team will tackle Trans Baviaans, the Trailseeker Series, Glacier Cradle Traverse, the Cape Pioneer Trek, The Dirty Kanza over in Kansas in the USA, Berg and Bush, possibly the 3 Towers, possibly the Glaciers Storms river Traverse, 947 MTB, 947 Road Race and finally, Wines2Whales – so plenty of action to follow on the trails this year. As Sarah says, "bring it on!"
Share the passion and follow Theresa and Sarah's journey to the Cape Epic and beyond.  
(ENDS)
Media contact:
Tamaryn Brown
084 3510560
Tamaryn@connectmedia.co.za